This post may contain affiliate links.* As an Amazon Associate I earn from qualifying purchases. Click here to read our affiliate policy.
Estimated reading time: 6 minutes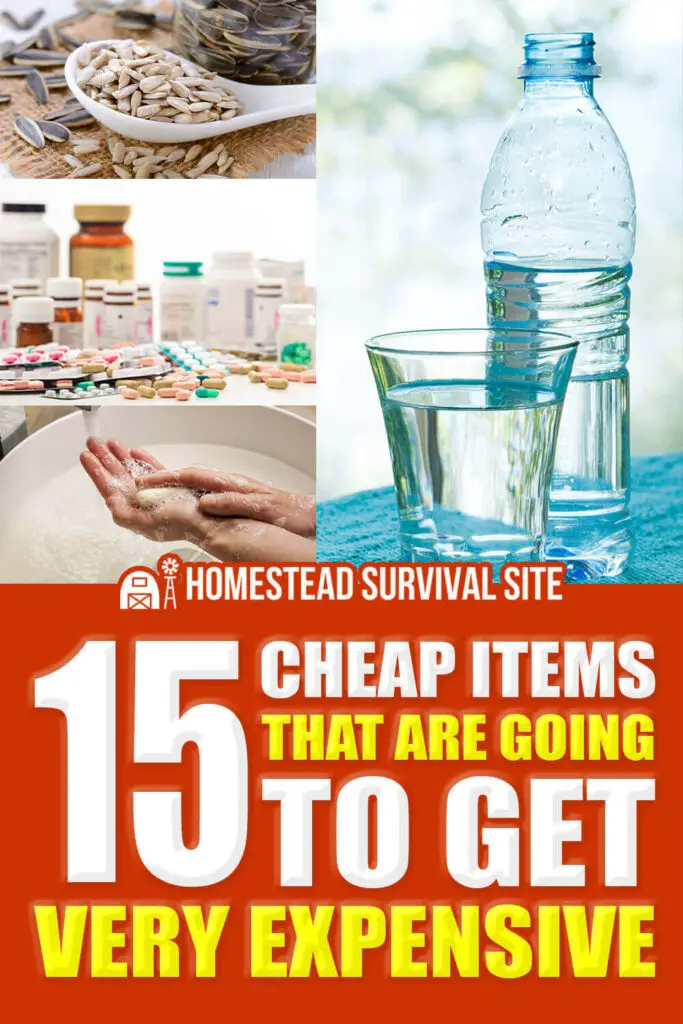 Stocking up for an emergency is the best way to prepare for our world once SHTF. Simply put, there are things that we take for granted today that could be the difference between life and death in an emergency. 
After living through the pandemic, we all know what it feels like to be stuck at home with no access to things. Many of us struggled to find toilet paper, cleaning products, and hand sanitizer in recent years. 
Let's use that knowledge to help better prepare ourselves for life in the future. There are no guarantees that any of these items will be available, and stocking up on them now can help keep you and your family safe when the SHTF. 
Consider picking up these items regularly to slowly create a backstock now before it is too late. Here are some cheap items that will get very expensive in an emergency.
Want to save this post for later? Click Here to Pin It On Pinterest!
1. Bandanas
There is a reason why so many cowboys used bandanas while braving the elements. There are so many ways to use a bandana! Bandanas can be used as a head covering in windy weather, as a sweat towel around the neck in hot weather, or used as a sanitary napkin.
They also can help shield your mouth from smoke or virus inhalation. Bandanas are very cheap today, with most costing about a dollar, and stocking up on them could be very useful.
2. BandAids
Ever had a paper cut that drove you nuts? Bandaids are a common household item today that will be worth their weight in gold in the future. The ability to cover up a cut or scrape not only helps provide comfort but it protects the body from infection and further damage. Stock up on them today and keep them in a dry place.
3. Bleach
The ability to disinfect items will be imperative in an emergency situation. Bleach is one of those cheap items that is very useful and could be a lifesaver (literally) when SHTF. It is also one of those items that we can't substitute or make ourselves from other ingredients, making it even more important to have on hand.
4. Clean Water
Access to clean water is something that many Americans take for granted on a daily basis. You never realize your reliance on clean water until your house doesn't have any. Stocking up on water for emergencies is important, as well as learning how to purify water sources around your home. 
5. Lighters
You really can't have too many fire starters in an emergency kit. Lighters are a cheap and easy way to produce a flame to start a fire. Stock up on multiple kinds of lighters that include matches and various handheld gas lighters. Buy them in bulk during the summer months when outdoor grilling is popular as well.
6. Needles
Plenty of needles can help make life better in an emergency as well. Make sure to have different sizes and gauges of needles on hand to fix items or help stitch up cuts in a crisis.
7. Pain Medication
Pain and survival situations often go hand-in-hand. Having over-the-counter pain medications and painkillers in your stock is a good idea. You can purchase large bottles of pain medications at wholesale stores for a cheaper price per dose. Never underestimate the comfort that pain medication could bring when SHTF.
8. Rope
While you can make rope out of natural materials, it would be prudent to just stock up on these items now. You can use rope to help make your living space more comfortable. Rope is vitally important to help lead animals, create shelter, preserve food, and more. 
9. Seeds
Growing food will be vital to the sustainability of life in an emergency. This is exactly why there is a remote seed vault in the arctic that is guarded and secure from the public. Stock up on seeds now and collect seeds from your current garden to dry and use for the future.
10. Soap
Many times, the culprit in a survival situation are microscopic bacteria and viruses. Soap is a household staple that doesn't go bad and is easy enough to stock up on today. Better yet, learn how to make your own soap using common ingredients so that you have this knowledge for the future.
11. Socks
While some would argue that a package of socks is a bit pricey today, they will be even more expensive when the SHTF. Keeping your feet warm and dry is a huge part of survival, especially if exposed or traveling in the elements.
Investing in a few pairs of high-quality wool socks now to store in your emergency kit would be very beneficial in the future.
12. String
Smaller string is another cheap item today that will become important in an emergency. You can use string to help create a belt, replace a shoelace, or tie up more minor things that need to be contained. You can also use string as a makeshift blade for certain items.
13. Tarps
There are so many uses for a tarp in an emergency! Tarps can be used to shield yourself from the weather, including the sun, wind, rain, and snow. They also can catch water for drinking and could be fashioned into a sail if needed. Tarps are relatively cheap and come in various sizes, shapes, and colors. Invest in a handful of tarps each year to stock up.
14. Thread
Another easy-to-find item today that is cheap is thread. Storing a sewing kit with plenty of thread allows you to mend clothing and fabrics. You can usually find a box of thread at a garage sale for just a few dollars.
15. Vitamins
Diets will be quite limited if something catastrophic happens to our world. The ability to eat a wide variety of foods that we enjoy today will most likely diminish. Stocking up on vitamins now is a good way to ensure that your family still has the necessary nutrients for health. A multivitamin includes many different vitamins put together to help save on space and money as well.
While all of these items may seem pretty unimportant today, they will become vital supplies to have when the SHTF. All of these items are easy to source and purchase now, but they are all cheap items that are going to get very expensive someday.
Like this post? Don't Forget to Pin It On Pinterest!