This post may contain affiliate links.* As an Amazon Associate I earn from qualifying purchases. Click here to read our affiliate policy.
Estimated reading time: 7 minutes
Chickens, gardens, solar panels, fresh-squeezed juice from my own orange tree–this is what I imagined when I decided to make the move to homestead living. I quickly realized that this big dream wasn't just going to appear with a snap of my fingers, and certainly not a click of my mouse. Living off the grid is all about making the most of what I've got and what my hands can do!
Instead of spending an arm and a leg for preassembled furniture and fancy household appliances like I would have done in the city, I decided to get a little crafty. With a lot of love and a whole lot of creativity, I went full DIY and turned my dream of picturesque sustainable living into a reality.
Here are 12 DIY homesteading projects I've done that I think are worth your time. For each one, I included a video or a link to a page where you can get detailed instructions.
Want to save this post for later? Click Here to Pin It on Pinterest!
1. Glass Bottle Walls
One man's trash is another man's wall, in this case at least. Gather, save, and recycle beer bottles or wine bottles to make a gorgeous glass bottle wall that twinkles in the sunlight. Build a really cool outdoor bathroom or push the limits and build yourself an entire house out of glass bottles. This project is most enjoyable with a couple of friends to help out and a few beers to add to the pile.
2. DIY Air Conditioner
There's no need to suffer from the hot outdoors in those sticky summer months. A block of ice, a household fan, some PVC pipe, and an Esky cooler are all you need to make your own homemade air conditioner. This method is so energy efficient that it can even be done using solar power. Whoever said homesteading isn't glamorous was just plain wrong.
3. Thermal Black Out Curtains
Windows tend to be really thin and easily allow heat in during the summer and cold in during the winter. Cut down on your electricity bill and get a bit cozier with these DIY thermal blackout curtains. A quick trip to the craft store or even a rummage through your old blankets and quilts will do the trick.
4. Aqua Dam to Prevent Flooding
Homesteading in a flood-prone area? No insurance? No problem. You can protect your home, family, and farm with this inflatable, durable, and proven effective Aqua Dam. Set up is quite easy and you can customize the size for any space vulnerable to flooding.
5. Sand and Gravel Rain Water Filter
Take advantage of rainwater with this easy-to-make Sand and Gravel Filter. If you live in super rainy conditions, then you could potentially stock up on enough water to sustain you and your family regularly. Water supply will no longer be the trickiest and most tedious element of living off the grid.
6. Dish Soap and Vinegar Weed Killer
Image Source
Support your garden and protect your crops from invasive species with this organic weed killer. No need to worry about cross-contamination on your product or about your animals taking a nibble of sprayed weeds as this pesticide-free concoction is totally safe to ingest in small doses. Just mix it up, pour it into a recycled spray bottle, and you're good to go!
7. Beehive in a Jar
Image Source
Imagine having fresh, organic honey at your fingertips. This beehive in a jar system will sustain an entire colony of bees without requiring a big, complicated set up. There's not much to it beyond mason jars, some wood, and a couple of tools. The see-through jars make this beehive especially fascinating to watch as the colony develops, and also educational for any young homesteaders with a curious mind.
8. Build a Living Wall
Image Source
An eco-friendly way to contain your kids, provide some privacy, or just add a really cool esthetic to your property is by building a living wall. There's no need to cut down perfectly healthy trees to harvest their wood just to make a wall out of wood again–it sounds crazy when think about it! Pick one of the suggested plant species, do a little bending and twisting, and soon enough, you'll have your own beautiful living wall.
9. Compost Pile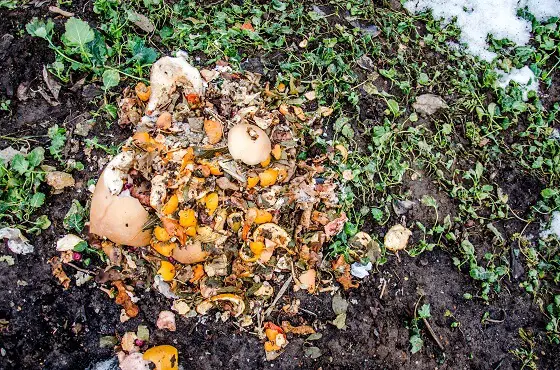 Every homesteader should know how to compost. It's the most eco-friendly way to reduce waste by giving it back to the earth. You can compost anything natural from eggshells to banana peels and garden clippings to bee poo. Instead of tossing these things into the trash, you can throw them on your compost pile. Once your compost has broken down and the organisms have started to intermingle, this nutrient-rich mixture can be used to feed your garden and crops.
10. Clean Chicken Feeder
Stay organized and save time with this clean chicken feeder. Instead of grazing on the ground next to droppings and pebbles, your chickens can feast on clean chicken feed until they are stuffed. This is possibly the easiest homesteader DIY project around and is also extremely inexpensive! The chickens will be happy and you will be happy. What more could you ask for?
11. Homemade Burn Barrel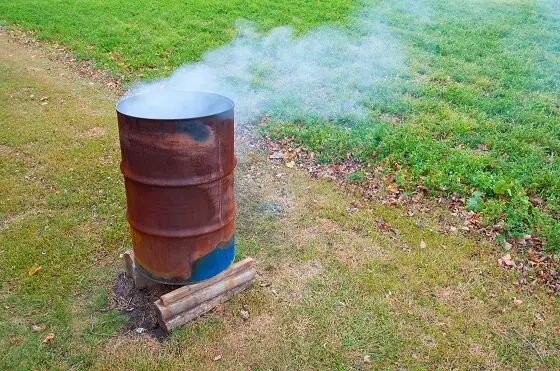 A burn barrel–also known as a backyard incinerator–is a useful tool to have around the homestead to get rid of any trash you couldn't otherwise recycle or compost. Having a sturdy barrel is step one in reducing smoke, as well as the risk of injury. To keep your lungs and the environment clean, first think about the toxins and fumes you might be burning off with each go.
12. Cinder Block Bench
Now, this DIY homestead project might not fall into the "necessary" category but it sure is nice to have somewhere to sit after a hard day's work and take in your surroundings. This cinder block bench is quite simple to make, only requiring cinder blocks, 4x4s and some careful measuring.
Make a few of these modern-looking benches to place around the property and give yourself a break throughout the day. You might even consider turning a profit by selling these around town.
Conclusion
Each DIY project for homesteaders I've listed today is simple enough for anyone to master with just a little knowledge and a bit of effort. I never skip out on the chance to make these projects a learning opportunity for my kids, my neighbors, and of course, the homesteader within me! The more you know, the more enjoyment you can squeeze out of this beautiful, sustainable way of life.
Like this post? Don't forget to Pin It on Pinterest!
You May Also Like: